The Internet of Things: Influencing the Modern Factory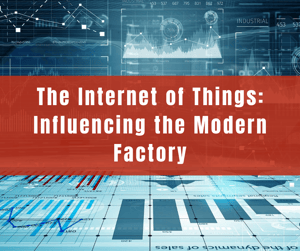 The Internet of Things is a system of interrelated computing devices with the ability to transfer data over a network without requiring human-to-human or human-to-machine interaction. In a factory setting, the Internet of Things is even more specialized, denoted as the Industrial Internet of Things (IIoT). Below, we'll discuss the specific advantages of IIoT and how utilizing this new interconnective technology influences the modern factory environment by saving time, energy, and money.


Influencing the Modern Factory
The Industrial Internet of Things offers distinct advantages compared to non-connected devices. One of the primary tools IIoT provides is its ability to give users a more clear image of the factory as a whole. Through smart, interconnected sensors and devices, IIoT allows for real-time system monitoring and analytics. By analyzing the data from sensors and other digital devices, factory operators can quell any potential errors before they occur. Catastrophic system shutdowns can be replaced with routine maintenance based on the information provided through IIoT. In this way, IIoT works to save your business time and money.
Predictive maintenance and the reduction of potential errors are not the only benefits of introducing IIoT to a factory. The analytic tools discussed above also allow users to pinpoint any inefficiencies in the system. Eliminating these inefficiencies by bypassing manual tasks and functions to automated ones while simultaneously making data-driven decisions in accordance with all manufacturing tasks means your factory can operate much more efficiently.
Therefore, the Industrial Internet of Things works not only to help you mitigate errors and keep the factory environment safer but also to increase productivity and efficiency, both saving your business time and money.
Interested in learning more? Connect with an ACD expert!
You may also be interested in reading: