Robotic Process Automation: Influencing the Modern Factory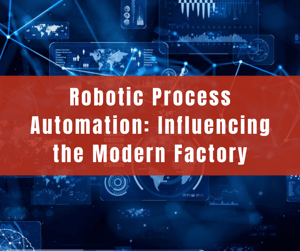 Automation has streamlined the modern manufacturing process. Instead of spending hours manually assembling materials, specialized machines now have the ability to quickly and precisely construct products within minutes. This idea can be translated into the concept of virtual automation as well. Because of this, robotic process automation is a key component of almost every modern factory. Below, we'll explore the basics of robotic process automation and delve into how this specific variant of automation can benefit your organization in the long run.
The Basics
Robotic process automation (RPA) is a "technology that allows anyone today to configure computer software or a 'robot' to emulate and integrate the actions of a human interacting within digital systems to execute a business process". In other words, robotic process automation seeks to utilize smart robots to capture data and interact with applications just like humans do. RPA robots can interpret, trigger responses, and communicate with outside systems in order to conduct a multitude of repetitive tasks.
The Benefits of Robotic Process Automation
There are numerous advantages to robotic process automation, the most prominent being RPA's ability to streamline your company's workflow and optimize performance. Here are just a handful of the other benefits robotic process automation can offer your organization:
Improved Accuracy and Compliance: Software robots are programmed to be compliant and consistent. This means they can conduct work continuously and never make any mistakes, greatly increasing your organization's output and productivity. Furthermore, because of the reliability of RPA robots, risk is greatly reduced in the factory environment.
Scalability: The ubiquity of RPA robots in both desktop and cloud environments means that they can be deployed quickly with little cost. With the prevalence of IIoT, they are easily implemented into any modern factory system.
Increased Productivity: RPA robots conducting tedious, repetitive tasks frees up employees for more essential, value-adding tasks. This adds to productivity and saves your organization money.
Cost Savings: Per analysts, RPA technology can reduce costs by up to 80%, providing a majority of organizations a positive return on investment in less than one year.
A Modern Example
Modern businesses are utilizing robotic process automation in a variety of ways to improve life for both them and their customers. For example, a trade credit insurance organization leveraged RPA technology to automate the underwriting process. While this process is typically very labor-intensive and tedious, involving manually gathering and processing information, RPA automation allowed the company to save over 2400 hours of human work per month. Now, employees are directly supporting customers instead of filing tedious paperwork, saving their business thousands of dollars in the process.
Image Source: https://www.accelirate.com/robotic-process-automation-rpa/
Interested in learning more? Connect with an ACD expert!
You may also be interested in reading: