SIRIUS ACT ID Key-Operated Switch: Key ID Breakdown

Assign zones, improve productivity.
The rapid advancement in industrial infrastructure may have opened new technological avenues but at the same time, it has produced several security concerns. From the very beginning, industries have used mechanisms to activate switches according to user rights.
The large-scale mobilization of industries requires functions to be accessed more periodically while considering safety. To tackle these issues, Siemens has come up with its own line of ID-key-operated switches. The major motivation behind these switches was to provide customizability, hence greater usability to the manufacturer.
Such switches aren't coupled mechanically with the keys, but make use of the widely-popular wireless technology. A tag is embedded into an ID key, which is read by the transmitter circuit within the switch, providing user with various control options. The ID Key-Operated Switches are not only robust internally but are sturdy and capable of surviving the harsh industrial conditions. As a whole, Sirius ACT ID Key Operated Switches provide a:
Authorization management system with 4 levels

Programmable IO-link

Color coding for easy recognition
The following video provides a visual idea of the entire product.
The four switching positions or authorization levels form a feature that is highly space-saving yet powerful. Various ID keys can be used with different coding for different positions.
The three colors that form the basis of this scheme are as follows:
Yellow – indicates permissible position
Red – indicates impermissible position
Green – indicates position selected by user
The Sirius ACT ID Key-Operated Switch is used in conjunction with an IO-Link module, 5 programmable keys as well as other supplementary material to provide complete functionality.

The 5 color-coded keys provided include:

Standard Keys can also be used in conjunction with the ones stated above, each one having its own assigned zones.
A more vivid explanation of the working of the keys is as follows: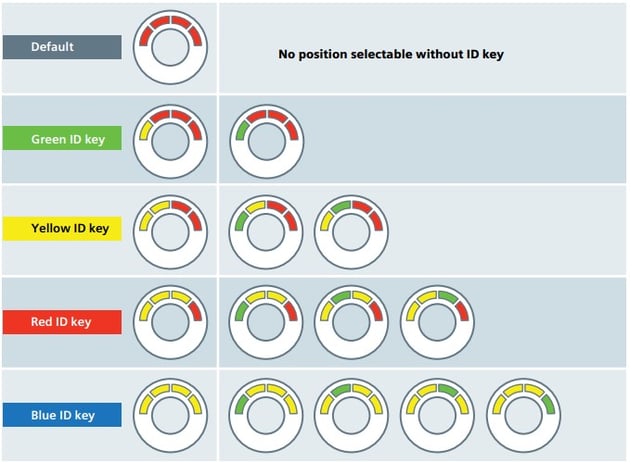 By default, the key-operated switch will indicate 4 Red Lights which shows that no key is inserted and it is ready for operation. For instance, if the Red ID Key is inserted, the first 3 positions become permissible. The user can then turn the switch and select the desired position. Other keys have similar operation.
The simple operation saves the user's time while the secure RFID connection makes sure system security is of the highest standards. Therefore,

SIRIUS ACT ID Key-Operated Switches

have become a revolutionary innovation and a valid need of the hour.
Continue the conversation with ACD!
You may also be interested in reading: