Wireless Sensor Networks: What You Need to Know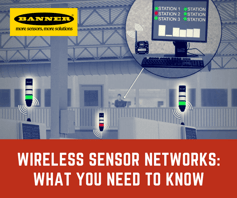 Banner Engineering packs a highly impressive wireless products portfolio for providing top connectivity to & from remote assets to central stations. The hardware is designed to withstand harsh conditions, therefore making it ideal for difficult-to-access locations.
Wireless I/O & Data Radios
Wireless I/O & Data Radios provide a convenient replacement for discrete, analog, serial, and ethernet signal wires. They require absolutely no setup software and are deployable within a short period of time.
Serial Data Radios - Serial data radios can extend the range of serial communications, that normally take place through wired networks. The Sure Cross MultiHop Serial Data Radios support both RS-232 & RS-485 protocols, based on user preference.
Ethernet Data Radios - These Sure Cross MultiHop Ethernet Radios provide a wireless link for point-to-multipoint connections for industrial communication devices. No IP address configuration is required, while the auto-routing RF network makes sure network range is utilized to the maximum possible extent.
MultiHop Modbus I/O Data Radios - These radios can be used to extend the range of Modbus or other serial communication networks. Each device can be used to act as a master, slave or repeater, and can perform RS485/RS232 based communication in a flexible manner.
Wireless Controllers

Banner Engineering is actively involved in the ongoing Industrial IoT revolution and has released many products capable of supporting such technologies. The DXM Series Industrial Wireless Controller is a prime example of this.
The controller has been developed to facilitate ethernet connectivity to IoT applications. It features an inbuilt DX80 Gateway or a Data Radio, that allows Modbus communicative devices to be kept in the loop on a reliable network.
Available in 900MHz and 2.4GHz

Converts Modbus RTU to Modbus TCP/IP or Ethernet IP

Features data logging & user alerts

Can be powered through line, solar panel or backup resource

Supports cellular connectivity through cell modem
Wireless Sensors, Lighting & Indicators
Banner Engineering possesses a wide portfolio of sensors, lighting & indicators that are driven through wireless communications. The obvious advantage of such devices is flexibility, reliability and cost-effectiveness.
Banner offers the following wireless sensors and illuminators:
QM42 Vibration & Temperature Sensor Series, for measuring RMS velocity & temperature of machines.

Q45 Wireless Sensor Series, for photoelectric control & monitoring needs.

Temperature & Humidity Sensor Series, for providing readings in hard-to-reach and environmentally challenging environments.

Wireless Ultrasonic Sensors, for monitoring of hard-to-reach places such as reservoirs, tanks, etc.

Tl70 Tower Lights, for clear & distinct illumination within a busy assembly line.
Interested in learning more about Banner Engineering Solutions?
You may also be interested in reading: