Share Data Between Profibus and Profinet Networks with the S7-1200

Paul Gazzo
ARE YOU LOOKING TO EFFECTIVELY SHARE DATA BETWEEN PROFIBUS AND PROFINET NETWORKS? THE SOLUTION IS THE S7-1200 PLC
Application:
With the increasing implementation of PROFINET based systems in the automation industry, there is now often a need to acquire I/O data from existing PROFIBUS DP networks which could not yet be converted to PROFINET.
In networks that are strictly PROFIBUS DP or PROFINET, this data exchange was implemented via DP/DP or PN/PN couplers, respectively. Currently, there is no available product to implement this cross-network data exchange, for example a PN/DP coupler.
Solution:
The S7-1200 PLC, with the addition of the CM-1242-5 PROFIBUS DP communication module, can provide a cost-effective implementation for this task. Using the PROFINET I-device function, the S7-1200 can act as a gateway between the PROFIBUS and the PROFINET systems. The S7-1200 can be configured as an I-Slave on the PROFIBUS network and an I-Device in the PROFINET IO network. The S7-1200 transfers cyclic I/O data, transparently, between the both networks. In this application a CPU 315-2DP represents the PROFIBUS system part and a CPU 1511-1PN represents the PROFINET system part.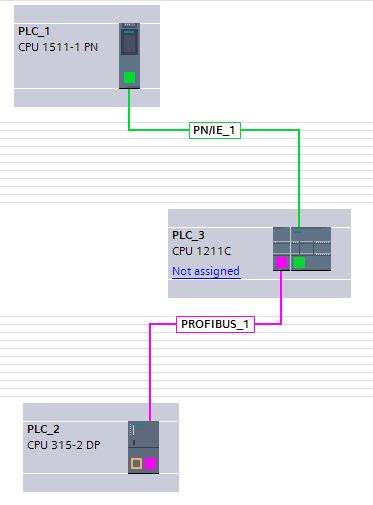 Advantages:
Cost-effective option to connect PROFIBUS DP to PROFINET IO.

Minimal configuration and programming effort.

Minimal changes are required to the existing systems.

The S7-1200 is available for additional automation functions, without modifying the existing systems.
You may also be interested in reading: