Scaling to IIoT Projects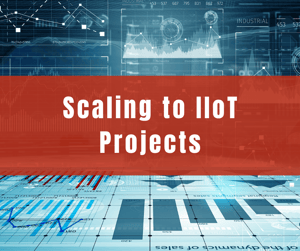 Industrial Internet of Things (IIoT) projects are redefining and shaping how modern factories and plants operate. By providing analytics on everything from predictive maintenance to industrial automation, IIoT projects can help improve efficiency and allow companies to make better, more knowledgeable business decisions. However, most modern plants are all facing the issue of scaling. Most factories and plants have implemented IIoT pilot programs, but have failed to progress to a full-scale overhaul where IIoT is ubiquitous in the work environment. Below, we'll expound on the complexities that come with scaling and offer suggestions on how to mitigate those issues, thus opening up a world of new possibilities for your company.
Know Yourself and Don't Be Afraid to Collaborate
Before you begin scaling IIoT projects, it is critical to know your plant's culture. While the glitz and glamour of wireless IIoT applications sounds fantastic, they may not be suited for a plant that uses run-to-failure as the maintenance strategy on all its assets. Understanding the inner-workings of the plant is essential prior to scaling. By focusing on the most important aspects of the individual plant, you are accruing assets that will have immediate returns.
Furthermore, consider a technological partner that matches your needs and can assist you in scaling. Abhinav Khushraj, the CEO of Petasense, suggests conducting pilots with multiple vendors in order to gauge which one is the right partner for your company. By casting a wide net, you are more likely to discover a suitable and capable partner.
Three Critical Focuses
When speaking further on scaling IIoT projects, Khushraj highlighted three specific technological aspects that companies should pay particularly close attention to - integration, assets, and applications.
Integration is critical in scaling to IIoT projects. Start by selecting an open system that can work with and leverage the software programs you already have. Computerized maintenance management systems (CMMS), asset performance management (APM), or data historians are excellent examples of well-known programs whose information can be leveraged and utilized by IIoT applications. By starting with programs where data is readily available, integration to IIoT is significantly streamlined.
Understanding and further analyzing your assets is possibly the most important aspect to consider when scaling to IIoT projects. How can you use IIoT uniquely to monitor your assets? Khushraj suggests looking for wider use of wireless sensing for optimization and asset management. Instead of just using vibration sensors to capture data, consider branching out to capture other types of data like pressure and flow. By amalgamating and analyzing the new data, you can work to stop impending issues and/or project future earnings.
Focus on scaling applications that have a clear return on investment. By concentrating your attention on known-problem assets, you can compare the data between the current situation and post-IIoT scaling. Having both sets of data will allow you to realize potential issues, know how to stop them in the future, and therefore allow further scaling.
Interested in learning more, connect with an ACD expert!
You may also be interested in reading: