Overview of IO-Link Devices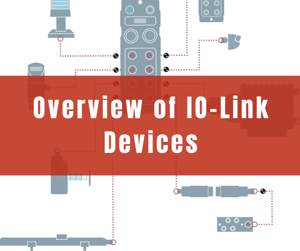 With sensor technology becoming more ubiquitous in modern industrial plants, IO-Link devices are becoming increasingly sought after and vital in the workspace. By its definition, IO-Link is "an open-source, serial point-to-point communication protocol for connecting sensors and actuators to an automation system." Simply put, IO-Link devices can offer numerous advantages over standard sensors, while also allowing laying the foundation for additional opportunities in the Industrial Internet of Things (IIoT). Below, we'll give a brief overview of IO-Link devices, detail how they operate, and outline the specific advantages they offer over standard industrial sensors.
Why IO-Link?
Improved Productivity
IO-Link devices continually provide the controller with detailed status data. This constant influx of data can allow personnel to plan for any potential problems at a moment's notice. Should a problem arise, IO-Link will detect it and alert personnel, allowing for quick maintenance and turnaround in mitigating the issue. Furthermore, real-time fault detection allows users to minimize operating costs by eliminating unplanned downtime.
Simplicity
IO-Link devices seek to make your life as easy as possible. Installing an IO-Link device is simple because it uses standard cables and male connectors. Maintenance is simple because you can easily monitor your systems and make alterations to your settings. Additionally, error detection processes of IO-Link devices allow users to determine the source of your problem quickly and with ease. Finally, should you need to replace your IO-Link device, the stored parameters are automatically copied to the IO-Link device without using a programming device. These simple innovations not only make the IO-Link an exciting alternative to standard sensors, but much more simple and convenient as well.
Remote Configuration
Remote access to your IO-Link devices means you can simply modify parameters and settings from the comfort of your desk by responding to status messages. Therefore, you no longer need to halt production to physically access the devices in order to remedy any faults, saving your business time and money.
Increased Accuracy
Due to the nature of the processes, analog sensors without IO-Link often pass through several A/D conversions before the data reaches the controller. This may result in errors. However, there is only one A/D conversion in IO-Link devices. Therefore, the accuracy of the data is less susceptible to error.
IO-Link vs. Standard Sensor
IO-Link devices provide three unique types of data over the standard sensor:
Process Data: Status information that is read and transmitted between the IO-Link device and the IO-Link master. This allows users to check whether process data is valid. An example of process data would be a distance measured by a distance sensor.
Service Data: Any information that can be written onto or read by the IO-Link device. A pertinent example would be a model or manufacturer number of the sensor, which would thereby help to identify a device or configure a new device.
Event Data: This includes notifications or alerts such as error messages, which are transmitted from the IO-Link device to the IO-Link master as the event occurs. An error message indicating overheating is an example of event data.
Interested in learning more, connect with an ACD expert!
You may also be interested in reading: