Leuze Smart Camera Solves Bottle Inspection Challenge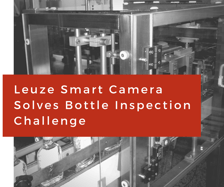 Bottle inspection may seem like a minuscule operation to many, but those who work in such industries know the importance of making sure quality is retained in every single unit. Before beverages can make their way to the consumer, they need to pass several vital exams to make sure they are free from any defect, such as torn labels, incorrect fill levels, etc.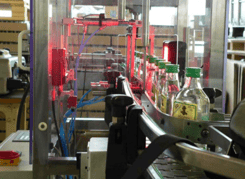 Due to the quantity of bottles inspected at any particular time, this task is often delegated to automated machines. So-called, "bottle inspection systems" are installed within factories, however the tough industrial conditions make it extremely difficult to guarantee 100% throughput.
The Leuze LSIS 412i smart camera has been designed to tackle a host of problems that often lead to degraded performance, and at the end of the day, a dissatisfied customer.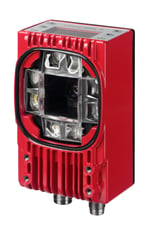 Packed with innovative and state-of-the-art camera technology, the LSIS 412i Smart Camera allows instant identification and simplifies the entire process of quality assurance.
Some of the features offered by the LSIS 412i Smart Camera include:
Image processing

Image and program memory

Illumination

Comprehensive Software program for displaying & processing

Resistance to harsh environments
The LSIS 412i Smart Camera has been built for use within industries. As such, it would be pointless if it would fail to show off its fanciest features in the face of humidity, challenging temperatures, or any other industrial element. It has therefore been built out of industrial-grade materials and possesses a robust design which makes it suitable for the environmentally challenged beverage industry.
The motor-driven focus adjustment is one of the most striking features, allowing for flexible usage and illumination. For instance, the LSIS 412i can be used in places with varying camera distances and with different sizing requirements. The focus adjustment also takes place based on the software and doesn't require any manual intervention, leading to optimum performance.
In order to maximize illumination, Leuze Electronic has switched from LEDs to special optics. A rectangular, intense, and uniformly illuminated field is created, 50 – 250 mm from the test object, giving a clear view, and eliminating all room for errors. For backlight-based illumination, an external source may be installed, allowing the detection of fill level even with clear liquids such as water. All detections are supported by impressive hardware specifications but in the end, made possible through intelligent BLOB analysis from Leuze Electronic Software.
BLOB of Binary Large Object analysis is a decisive factor in all Smart Cameras that claim reliable and all-around functionality. It is also a cornerstone for the LSIS 412i. Tasks such as the detection of labels, caps, or dark fill level lines are typically performed by BLOB analysis and require a number of parameters to be considered such as length, angle, area, etc. The powerful analysis tool within the LSIS 412i allows the grouping of various detection characteristics so that a "one-size-fits-all" solution may be produced for bottles of all shapes and sizes. The LSIS 412i even works flawlessly during processes that involve swashing liquids.
The final factor is deployment. The LSIS 412i can be configured with a simple and instant web-based interface. It requires no special software and can be accessed at any time through an ethernet connection.
Interested in learning more about Leuze Electronic products?


You may also be interested in reading: