Leuze PRKL Polarized and Retro-reflective Photoelectric Sensors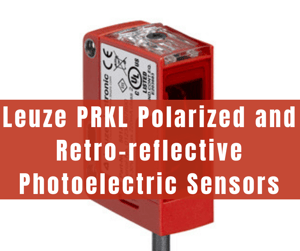 Any photoelectric sensor, irrespective of its type or technology, uses two parts: transmitter and receiver. These can be either in separate housings or within one package. With retro-reflective photoelectric sensors, both these parts are a single housing, with the sensors "looking" at a reflector situation opposite to it.
As soon as an object moves in between the two, the output becomes active. Unlike normal reflective sensors, polarized retro-reflective sensors use special filters to ensure only objects that fall between the transmitter and receiver are detected, lowering the chances of false-positive detections.
Leuze Electronic photoelectric sensors are ideal for transport systems for exact position applications as well as detection of PET and gas bottles in manufacturing plants. The laser device possesses a high degree of accuracy and is suitable for small parts detection. Major features include:
316L stainless steel housing
Enclosed optics design prevents onset of bacterial residues
ECOLAB and CleanProd+ tested
High-switching frequency (2000Hz) for fast part detection
Adjustments made through lockable teach button
The operating range of the detector varies from 0 – 0.4 meters with a peak range of 0.5 meters. The laser has a light-spot size of 3mm with a class of IEC/IEN 60825-1: 2007. For use in harsh environments, the sensor comes with IP67 degree of protection, as well as polarity reversal blockage for accidental coverage.
Interested in learning more, connect with an ACD expert!
You may also be interested in reading: