Leuze Electronic Barcode Identification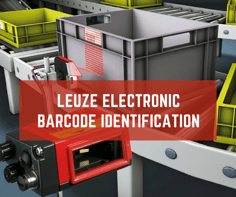 The identification of objects is a vital part of any assembly line, which as a whole serves a bigger purpose within the entire industrial process. Barcodes have been in use for industrial tasks for decades, and have established themselves as reliable and robust.
Leuze Electronic, dubbed 'the sensor people,' have a comprehensive lineup of barcode sensors that are fit for any application. The two major classifications offered by Leuze are stationary and mobile, both having unique purposes within an industry.
Stationary Barcode Readers
These are highly rugged barcode scanners, fabricated within IP-rated housings, providing high performance rates of up to 1000 scans/sec. Some of the products offered under this umbrella include:
BCL 21/22
The BCL 21/22 series are high-speed, compact barcode scanners that keep into account installation space limitations, while providing a wide range of features. The scanners possess a large depth of field and wide opening angle, making sure no character or product is missed. Configuration is performed through the BCL Config Tool, and saves time as the automatic modes recommend the best settings on their own.
BCL 600i
The BCL 600i series has a lot to offer. With a depth field 50% greater than some other models, the barcode scanner provides optimum performance, eliminating any false-positives or the need for expensive focus adjustment. The feature that makes this all possible is a blue laser light, instead of a conventional red one. When it comes to connectivity, the BCL 600i series supports integrated fieldbus connectivity such as ProfiBus, ProfiNet, and RS232/422/485.
MSPi Systems
Unaligned barcodes aren't an uncommon sight. Scanning them requires both effort and technique, and typically more than two barcode readers. Leuze Electronic's new MSP systems are designed to read barcodes omnidirectionally. These barcode systems are able to work in the toughest of environments and detect the most stained codes, while communicating through ethernet, RS232/422, and Profinet interfaces.
Mobile Barcode Readers
As the name suggests, these barcode readers are handheld devices, and can be used omnidirectionally. Depending on the application and the model, these readers can handle 2D and RFID, and communicate through wireless mediums.
Leuze Electronic offers mobile barcode readers for both generalized applications and industrial ones. Barcode readers for general applications are more well-suited for warehousing and logistical purposes, whereas the latter can withstand a number of environmental factors and have greater reliability and robustness to offer.
IT 1450g 1D
The IT 1450g 1D is a general-purpose barcode scanner capable of scanning one dimensional codes. The scanner has a USB and RS232 interface, providing communications through both. An RJ41 connection is also available. Because this is a generalized scanner, it is rated at IP40, and can operate in limited temperatures (0-40 degrees Celsius).
IT 3820i SRE
The IT 3820i SRE is an industrial barcode scanner that is highlighted by wireless communication. The scanner has a protection rating of IP54, and can operate in sub-zero temperatures (up to -10 degrees Celsius). Weighing in at only 250 grams, the scanner possesses great ease-of-use and blazing fast performance, serving as an excellent mobile, industrial barcode reader.
Leuze Electronic is well known for their quality, consistent sensor products. With many options to choose from in each category of barcode scanners, Leuze Electronic offers a scanner for any application.
Interested in learning more about Leuze Electronic products?
You may also be interested in reading: