LED Lighting Case Study: Donjon Shipbuilding

Donjon Shipbuilding needed to brighten a 200,000 sq. ft. open air production building and dry dock.
Of 266 total 1,000 watt metal halide fixtures, Donjon Shipbuilding could only use around 60 metal halide lights at a time due to the short lifespan of the bulbs and a harsh, wet, high vibration environment. Employees were forced to carry flashlights at all times to navigate the cavernous darkness, even on a bright sunny day at noon.
With a 92 ft. to 125 ft. ceiling over a facility roughly the length of four football fields, Donjon Shipbuilding needed a lighting solution that could meet the challenge.
ACD's Solution
Donjon Shipbuilding needed an electrical control supplier with the expertise to offer guidance on the best lighting solution. After a free consultation to evaluate Donjon Shipbuilding's needs, Advanced Controls and Distribution (ACD) stepped in with Dialight's 60,000 lumen Vigilant High Bay fixtures.
ACD's knowledgeable LED specialists chose the Vigilant High Bays as the first and only LED fixtures that could one-to-one replace traditional 1,000 watt fixtures like Donjon Shipbuilding's old metal halides. To make sure that Donjon Shipbuilding was confident in this solution, ACD brought in a Dialight Representative to address any concerns in full detail. The ACD team continued to discuss and respond to Donjon Shipbuilding's needs throughout the process.
ACD's LED lighting solution offered several key advantages:
Vigilant High Bays are resistant to harsh, damp, and freezing local weather

Guaranteed zero maintenance, avoiding 90+ ft. journeys to the ceiling

Easy installation to go from darkness to light in one day

10 year full performance warranty for complete peace of mind
On top of the LED technology savings and 10 year warranty, ACD negotiated the best possible price for the company and provided a free LED lighting layout plan to expedite installation.
The Results
At 115 lumens per watt and half the power consumption, Donjon Shipbuilding was able to brighten its massive facility with just 79 Dialight Vigilant High Bays.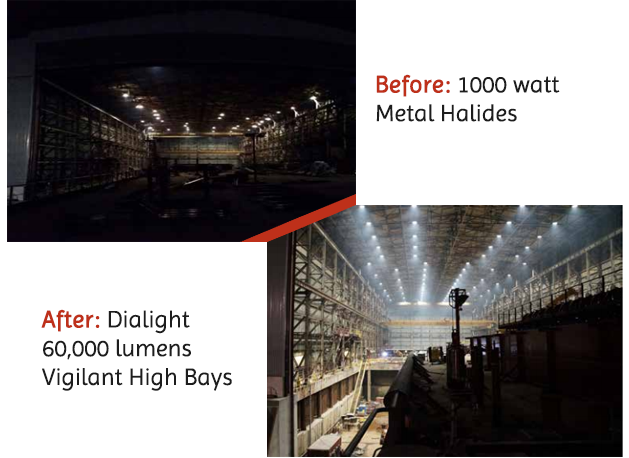 ACD's recommended product instantly cut the customer's electricity bills by 34%.
Finally, Donjon Shipbuilding's staff could leave the flashlights behind and enjoy the clear, brilliant white lighting that LEDs do best.
ACD is proud to deliver another solution with dedication to the customer's confidence and satisfaction at every step of the way. The team looks forward to future projects with Donjon Shipbuilding for their industrial distribution needs.
If you are considering LED lighting for your next project, contact us for a free LED lighting consultation:
You may also be interested in reading: