Industrial Networks: The Backbone of the Digital Enterprise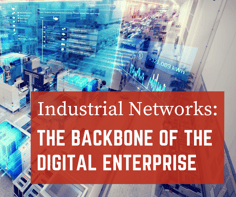 The age of digitalization has arrived. Industries are becoming highly reliant on the use of data for making day-to-day & long-term decisions, while robotics are gaining intelligence and are expanding from their previously-held portfolio of machines; all through the efficient & effective use of data.
The accessibility of data has been one of the most major concerns regarding its use but modern, robust industrial communication infrastructure has brought reassurance into the path of digitalization. Industrial Remote Communication is the term that truly consolidates such high-end networking, ensuring that plants, distributed machines & applications operate, both securely & economically.
Some of the benefits introduced into within global systems through Industrial Remote Communication include:
Video surveillance:

Modern industrial radio routers are well-suited for use in moving objects such as trains & buses. They can provide real-time feed, while preserving the high-resolution of the video output, enhancing the safety sector within a society.

Condition monitoring:

Renewable generation infrastructure such as wind power plants are getting bigger and more efficient with every passing scientific breakthrough. This results in greater complexity as such plants require continuous monitoring & control due to varying parameters. Mobile radio networks can fulfil these demands providing a high-bandwidth solution to such problems, thereby increasing the efficiency of energy production as well as lowering unplanned downtimes.

Smart Grid applications:

The need for a revolution within energy networks has become imperative. Smart Grids aim to introduce digitization to highly conventional & rigid electricity infrastructure, thereby instilling reliability, security and flexibility within the system. This would require utilization of data and would thus require robust industrial networks. By connecting & automating distributor & local network stations, intelligence can be introduced within conventional power systems, turning them into Smart Grids.
Industrial Remote Communication is an umbrella term, which many products & services may reside under.
Telecontrol
Several process stations distributed over a wide geographical area often need to be connected to a central process control system so that they could be properly monitored, controlled & troubleshooted for faults. A number of transmission components falling within the remote networks category support such communication over public & private channels. In addition, specific Telecontrol protocols have been developed so that communication can be carried out with minimal losses within a limited bandwidth.
Siemens is one of the pioneers of this technology and provides highly flexible system components & solutions for control centers, networks and outstation.
Some applications of Telecontrol include:
Centrally controlled building management

Monitoring & control of water supply, water treatment or environmental parameters

Control and monitoring of traffic lighting systems

Monitoring of energy generation, transmission & distribution networks

Remote control of machine control systems such as automation equipment
Telecontrol communications are highly versatile and can take place over both legacy & IP-based networks.
Teleservice
This is yet another solution that falls within the Industrial Remote Communication category, allowing distant machines & plants to be maintained economically, preventing any unplanned downtime, and initiating support action on a need basis.
A few functions of teleservice include:
Remote maintenance: as all equipment would be connected to the industrial remote network, maintenance could be carried out over the phone

Remote connection: transmission of data between several automation systems is possible remotely

Notifications via SMS & Email: priority notifications can be generated and sent out in the form of calls, sms, voice notes, etc.
Teleservice enables plants to be diagnosed & maintained remotely over a number of networks, ranging from classical telephone networks to IP ones. This greatly reduces the maintenance costs which would otherwise be associated with on-site personnel who would have to be called in at a regular interval of time.
Optimum teleservice is dependent upon reliable, secure & low-cost data connections which can be wired or wireless. In recent years, wireless mediums powered by microwave & satellite communications have gained a strong foot-hold due to the high level of flexibility it provides. Therefore, teleservice solutions therefore have also been upgraded to ensure compatibility with such channels.
Interested in learning more about Siemens security products?
You may also be interested in reading: