How Leuze Ensures Continuous Communication for IO-Link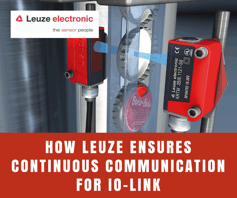 Data is sensed, processed & acted upon within an industry through a wide range of sensors & actuators, which by now have become intelligent enough to perform a number of sophisticated activities with little intervention. But despite many innovations in interface technologies, an economical & reliable solution has still been missing that would conclusively address uninterrupted communication down to the lowest field level.
Leuze Electronic IO-Link.
IO-Link is a serial, digital communication protocol that would be used within automation technologies to connect sensors/actuators within an automation system. With the IO-Link, the "last mile" problem of communications with sensors & actuators would be neutralized through digitization. While previously only binary switching states and analog signals were transferred, IO-Link would even allow status information to be read by the sensor or actuator.
IO-Link has traversed from the concept of being a bus system and transformed into a point-to-point connection between the IO-Link device and the connection unit.
Leuze Electronic offers several IO-Link products in order to support seamless operation within your automation infrastructure.
Contrast Sensors
Contrast sensors can be used to detect a variety of light sources, from white to laser-generated red to RGB. Leuze Electronic contrast sensors provide highly accurate detection & comparison between changing contrasts and deliver the results with minimal signal jitter.
KRT 3B Series - The series features contrast sensors that can distinguish between grayscale values enabling them to detect minimal contrast deviations. This makes them ideal for sensing the presence of texts or imprints.
KRT 18B Series - Several industrial applications require the detection of contrast marks on film bags and blister packaging. The 18B contrast sensor combines ease of use via permanent signal indicators with high performance. If required, the sensor also provides analog output for heavily demanding detection applications.
Retro-reflective Photoelectric Sensors
Retroreflective sensors are based on the simple principle of obstruction between a light beam, which sparks a response from an actuator. Such photoelectric sensors are commonly used in safety-related applications. Leuze Electronic offers photoelectric sensors based on its IO-link technology to provide uninterrupted, blazing-fast communications to your system. The various sensors offered by Leuze include:
46B diffuse sensors

HT 10 diffuse sensors

3C retro-reflective sensor

46C retro-reflective sensor
Optical Distance Sensors
Optical Distance Sensors make use of pulsed light beams to detect changes in distance from a target surface. These sensors either use laser or LED lights as a medium, precisely measuring the distance over a wide variety of materials. Leuze Electronic offers the following Optical Distance Sensors under its IO-Link banner:
ODSL 8 - Housed in a compact-metal enclosure, the sensor can be commissioned quickly and provides reliable readings.
ODSL 9 - This is a highly precise optical distance sensor, and works against harsh surfaces, e.g. glossy objects.
ODS 10 - The optical distance sensor measures the distance to a non-cooperating target, making the information available as a measurement value. The device works at a maximum range of 4000mm, while a range of 25000mm can be achieved using a reflector.
Light Curtains
Light Curtains are an essential requirement of any facility with machinery that can pose a risk to human life. By eliminating safety risks, light curtains indirectly improve the productivity of the environment. Leuze Electronic offers the following light curtains:
MLC 500 - These are type-4 safety light curtains and can be used to safeguard even the most sophisticated machinery on the plant floor. The devices can be used universally due to their flexible design, and are IP67/69K certified for use in harsh environments.
MLC300 - These are type 2 safety light curtains, available in basic & standard versions, fulfilling a variety of user requirements. The curtains can be used in extensive applications and sport metal end caps, flexible fastening, and AIDA-complaint pin assignment.
Interested in learning more about Leuze Electronic benefits and solutions?

You may also be interested in reading: