How Banner Can Benefit Assembly and Robotics
Manufacturers are always on the lookout for better assembly methods to meet their production schedules and volumes, while limiting their cost overhead. From manual workstations to automated assembly lines, maximizing production efficiency is critical to ensure competitiveness in the global marketplace.
Banner Engineering provides manufacturers with specialized industry knowledge and expertise in the field of sensors, wireless I/O, safety control, and LED lighting, helping manufacturers enhance their processes. Some examples of Banner Engineering's products at work include the following.
Detection of Black Parts on Door Panels
The quality of the final door assembly is highly dependent on successfully verifying that foam and other components are present on automotive door panels. If a Tier-1 supplier delivers a bad part to its customer, such as a car manufacturer, the end result may cause punitive actions.
Generally, door panels are of dark colors while the foam is usually black, making it difficult for sensors to differentiate between their presence and absence.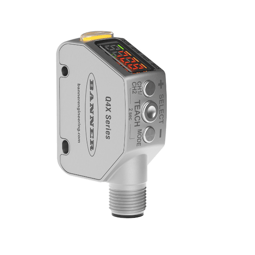 Banner's Q4X triangulation-based laser sensor provides an easy fix to this anomaly because it can detect dark targets on dark backgrounds. The sensor provides best-in-class excess gain, making pass/fail judgments based on distance instead of reflectivity. For door panels, in particular, four Q4X sensors have to be set up to target the four areas where foam should be present. If three targets are verified while the fourth is missing, a fail signal would be sent, notifying the operator that the part needs to be reworked.
Robotic Guarding in Work Areas
As robotics are on the rise on the plant floor, it is becoming increasingly difficult for engineers to ensure both maximal worker safety and uninterrupted productivity from robotic operations. In these scenarios, robotic guarding is being introduced to ensure operator access to the inspection station goes smoothly. Area guarding also ensures that all intrusions are detected and reported as soon as they occur.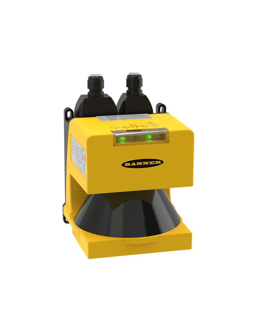 Safety laser scanners from Banner Engineering are well-suited for robotic guarding applications where access and safety go hand in hand. The AG4 Safety Laser Scanner, for instance, provides a 190-degree scanning angle, fitting into cavities of almost any shape. The scanner can evaluate the operator's position through its range and rotational angle.
Within the designated guarding area, AG4 provides a warning field and a protective field. This gives the worker ample time to change his/her path before the robot is shut down completely, leading to a loss of productivity or disruption in the production cycle.
Bright Indication in Ambient Light
Several factories make use of specific indication schemes to alert operators working on the floor of a particular activity or hazard. At the same time, it is becoming a trend for factories to have large windows to allow ambient light during the day.
While the extreme brightness does come in handy for operators, it also hinders the visibility of indicators spread across the plant floor, which may hold a high degree of importance for a manufacturing process.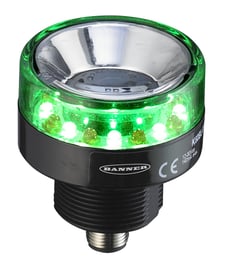 Let's assume that a cabinet is fitted with an indicator with a window right behind it. Ordinary indicators may get blurry in this case, which creates a need for long-lasting, bright LED indicator lights such as EZ-LIGHT K50 Beacon.
The energy-efficient LED indicator can provide the light that is bright enough to cut through fog, mist, or in this case ambient light. This makes it perfect for factory floors and parking ramps. A variety of models are available in multiple colors and views, fulfilling the specific need of the factory.
Interested in learning more about Banner Engineering Solutions? Speak to an Advanced Controls & Distribution expert today!
You may also be interested in reading: