Gain a Competitive Edge with Remote Monitoring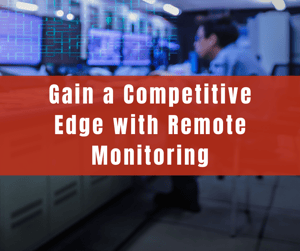 With a large fraction of the working populous constantly traveling, it is hard to routinely check-up and monitor various factory systems. However, the advent of remote monitoring technology - a tool that allows engineers and manufacturers to overlook and supervise the health and productivity of various machines - has proven to give companies a competitive edge.
Here are some reasons to consider remote monitoring:
Accessibility. According to HMS Networks, "in 63% of the cases, the machine they [automation engineers] are visiting works just fine or needs a routine check" and therefore does not necessitate any major on-site intervention. Remote monitoring effectively eliminates this problem by allowing machine manufacturers to securely connect to all your machines remotely in order to assess any issues.
Troubleshooting. Logic dictates that as the number of machines increases, so to will the risk of conflicts. With remote monitoring, IP conflicts will no longer be an issue. By accessing machines remotely, automation engineers will be able to navigate through network hurdles with ease in order to focus on important, value-adding tasks.

Reducing Costs.

According to Marie-Luce Bodineau, the Head of Ewon Product Management at HMS Network, remote monitoring has the ability to save manufacturers significant time and money. By allowing easy access and troubleshooting capabilities, machines are operational for longer periods of time. Furthermore, the connectivity provided by remote monitoring allows for manufacturers to expand into even more markets as accessibility is no longer a deterrent for customers. As Bodineau says, "technicians can [now] access the machine from the office, no matter where it is deployed" thereby reducing costs associated with travel, while simultaneously attracting new clientele.
Interested in learning more, connect with an ACD expert!
You may also be interested in reading: