Banner Sensors' Impact on Packaging Automation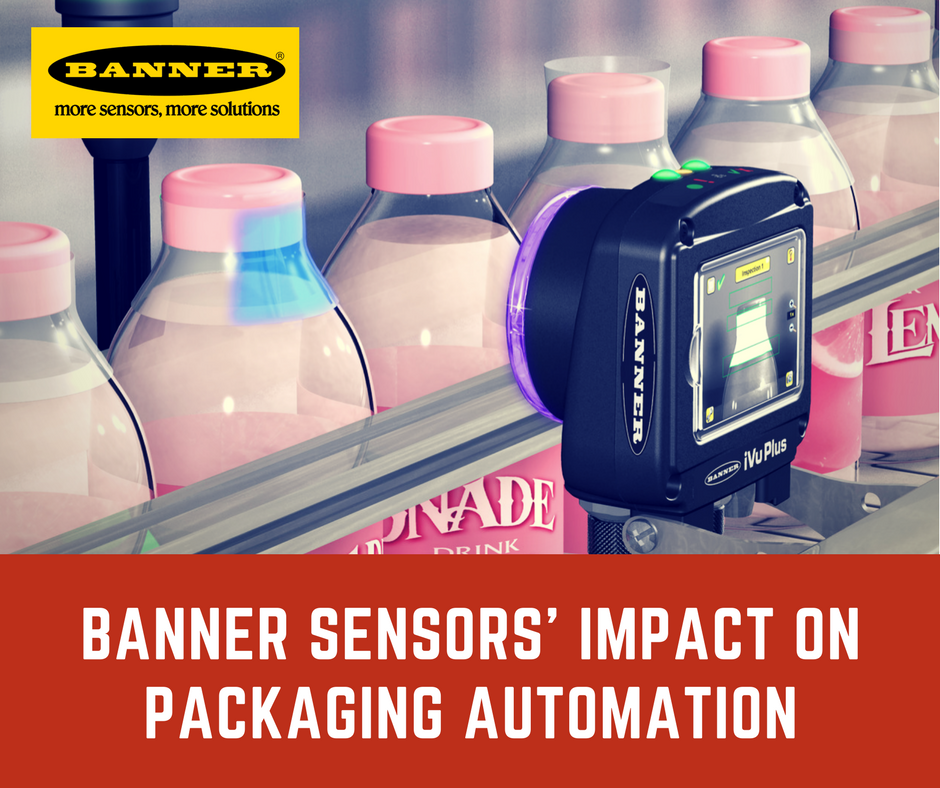 Advancements in sensory technologies are driving the packaging, quality control & track-and-trace applications to greater operational efficiencies. As the competition stiffens, more & more consumer-packaged goods companies are looking for ways to make their operation autonomous. Packaging machine builders are now meeting these demands by incorporating advanced sensing & communication technology.
Non-rigid packaging
In order to meet the diverse packaging requirements of retailers without adding too many material & labor overheads, manufacturing companies are bidding adieu to regular slotted cases, and moving towards trays & pouches. But even though these trays & bliss boxes are lighter & cheaper in terms of shipping, they are much harder to detect due to non-uniformity. Advanced photoelectric & vision sensors can be used to remedy the situation. They can be programmed to increase the sensing capabilities of the system in place and ensure the integrity of the package.
Quality Control
Misaligned seals, incorrectly labeled packages and missing stickers are just some of the problems the packaging industry faces. Vision sensors can help automate such packaging processes and eliminate the need for any human intervention that is usually prone to errors. Vision software such as Banner Engineering's iVu Plus has been developed for such purposes and can verify the correct label. A package that doesn't meet the stated requirements would simply be removed from the assembly line.
Track-and-trace applications
The entire packaging industry has been impacted by the Food Safety Modernization Act, which has put forth requirements pertaining to the automation of packaging processes. Track-and-trace documentation, hygienic equipment design, beverage packaging processes, etc. are all shaping in favor of smarter & safer packaging machines.
The FSMA's track-and-trace applies to both manufacturers & suppliers who now have to effectively verify & document each process. These processes even though necessary are extremely tedious. The use of barcode readers and similar vision sensors can greatly take the load off any manual labor and help manufacturers & suppliers keep a digital track of all such activities. Constant accumulation of data would give manufacturers/suppliers analytical capabilities, allowing them to dedicate resources & plan upgrades well in advance.
Washdown Conditions
The guidelines set forth by the FSMA as well as other regulatory bodies also apply to components with which food or pharmaceuticals may come into contact during various processes. Sensors such as Banner Engineering's QMH26 have been designed in a manner, i.e. stainless steel & self-draining housing shapes, therefore minimizing the risk of contamination.
This may sound like something that would add to the overall cost of operation, but in fact, such sensors help bring down costs while reducing risks of contamination. Sensors are able to withstand extreme conditions such as water ingress, high pressure, high temperature, etc. This makes them ideal for such tasks compared to repeated manual checks by humans which would leave the food/medicine prone to external exposure.
LED Lighting
Bright LED illumination plays a vital role in ensuring the safety of packaging machines & inspection areas. For instance, during product changeovers the LEDs can help operators carry out proper inspections, and help them monitor processes smoothly.
LED lights also hold a sizing advantage over glass bulbs which require large, expensive enclosures. LEDs can be confined to small, hard-to-reach places while withstanding extreme conditions, making them ideal for an industrial environment.
Interested in learning more about Banner Engineering Solutions?
You may also be interested in reading: