Banner Engineering Sensors: How Can Data be Turned into Useful Information?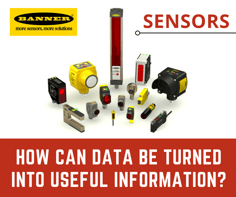 Data sits at the very core of all automation operations. All modern automation technologies & concepts such as Internet of Things & Industry 4.0 strive to achieve greater levels of automation & intelligence through the utilization of data.
How can this data be captured, and better yet turned into useful information? The answer is sensors. No matter how interlinked & connected a plant/factory's controls are, true automation would be out of the question unless sensors were deployed to gather physical parameters out of machines. Banner Engineering is an expert in sensing technologies and has a comprehensive portfolio of sensors, covering almost every vital industrial parameter.
Photoelectric Sensors

Ultrasonic Sensors

Barcode Readers

Radar Sensors

Temperature & Vibration Sensors
Photoelectric Sensors
Banner offers over 12,000 sensors targeting almost every type of application. A photoelectric sensor works by detecting a visible or invisible beam of light, responding to changes in the received light intensity. The most popular & feature-studded sensors include:
Q4X Series Rugged All Purpose Photoelectric Sensor - The versatile & rugged laser distance sensor offers sub-millimeter level detection functionalities to an application. The sensor possesses a wide sensing range, from 25mm to 610mm, detects across a variety of target colors, materials & surfaces. The sensor

measures intensity & distance,

ensuring that the recorded reading is error-free.
Q3X Series Laser Contrast Sensor - The sensor offers reliable, high-speed detection along with contrast detection in a fixed range. The detection is as fast as 250us, capturing up to 2000 events per second. The sensing range extends up to 300mm, and isn't affected by challenging texture or background.
QS18 Series All Purpose Photoelectric Sensor - This all-purpose photoelectric sensor is an ideal replacement for hundreds of other sensor styles. The sensor meets IP67 & Nema 6 standards for harsh environments, featuring a universal housing with an 18mm threaded lens. The sensor is available in a variety of modules such as laser, ultrasonic, polarized & non-polarized, glass fiber optic, etc. The range is consistent up to 20m.
QS30 Series High Performance Long-Range Sensor - The long-range sensor is capable of detecting at ranges up to 200m. The high-power sensor comes in an innovative 30mm housing design that's compatible with almost any mounting requirement. In addition, the sensor is IP67 & IP69 certified, ready to be used in harsh conditions of your plant.
Ultrasonic Sensors
These sensors use sound waves instead of light, making them suitable for detection of liquids, clear objects, uneven surfaces and objects in dirty environments.
T30UX Series Temp Compensation Ultrasonic Sensor - This compact, right-angle ultrasonic sensor comes with built-in temperature compensation, delivering high-accuracy performance at ranges of, 100mm to 1m, 200mm to 2m or 300mm to 3m. The sensor is available with analog output for applications requiring a continuous current or voltage output.
S18U Series Barrel Ultrasonic Sensor - Available in straight or right-angle housing, the sensor senses from 30mm to 300mm, available in both analog & discrete models. The sensor has minimal dead zone, and ideal for material handling & packaged good applications. In order to make sure that the readings are as accurate as possible, the sensor compensates for any temperature fluctuations.
Q45UR Series Remote Transducer Ultrasonic Sensor - This is a customizable sensor, offering users the choice of three remote sensing heads for use in confined or difficult environments. The sensing range is 50 to 250mm, and requires remote transducers for sensing in different areas. The sensor features programmable response speeds, and uses TEACH programming of near/far limits.
Barcode Readers
Barcode readers are age-old sensors that are still widely used today, especially in industrial environments where cataloging is necessary. Banner's barcode readers offer advanced reading capabilities for advanced traceability, also featuring ethernet communications for proper integration into an automated environment.
TCNM Series Laser Barcode Sensor - The barcode sensor is able to decode over a dozen commonly used linear barcode symbols, providing fast read rates, wide depth of field and high resolution. The sensor is capable of completing 500 to 1000 scans per second. Using the GeniusPlus software and proprietary intra-sensor communication protocol, the sensor eliminates the need for any external multiplexer in a multi-sensor setup.
PresencePLUS P4 Series Barcode Sensor - This is a one-size-fits-all barcode sensor that is capable of decoding advanced 2D & 1D linear barcodes. The sensor includes remote teach, configurable I/O, and live communications along with a rugged build, making it

ideal for variable applications.
Radar Sensors
Banner Engineering's radar sensors use frequency modulated continuous wave radar to detect stationary or moving targets such as trains, cars, trucks, cargo, etc. The radar-based solution is ideal for use in extreme weather conditions and helps in applications such as collision avoidance.
Q240R Series Dual Sensing Zone Radar Sensor - This sensor uses two independent zones to reliably detect objects with a narrow beam pattern, working at ranges up to 40 meters. The radar detects both stationary & moving objects. The setup & configuration is simple, while the output can be received through DIP switches. The functions are unaffected by any rain, snow, or fog, making it ideal for use in external environments.
QT50R Series Collision Avoidance Radar Sensor - This is a high-sensitivity radar-based sensor built for use in collision avoidance mobile equipment such as forklifts, mining vehicles, etc. The sensing field is adjustable, with the sensor working at long ranges with equal sensitivity. The sensor operates in industrial, scientific & medical telecom bands so no special licenses are required for its operation.
Temperature & Vibration Sensors
As the names state, temperature & vibration sensors are used to detect any changes in respective parameters, comparing the recorded value with a setpoint.
M12F Series Wireless Temperature & Humidity Sensor - This is a SureCross® temperature & humidity sensor, and is extremely reliable in a range of environments, providing accurate readings. Designed to work as a Modbus slave device via RS485, the sensor ships in an aluminum grill filter cap.
QM42VT Wireless Vibration & Temperature Sensor - The QM42VT measures RMS velocity (inches per second) and temperature. The sensor is mounted close to the bearings through the standard bracket, and connected via a 1-wire serial interface. The measurements are extremely accurate, thereby eliminating the need for frequent checks in a manual manner.
There are several other types of sensors designed & manufactured by Banner Engineering as well, such as slot sensors, registration mark & color sensors, measuring arrays, etc. all built to provide targeted solutions for applications with unique requirements.
Interested in learning more about Banner Engineering Solutions?
You may also be interested in reading: