Banner Engineering Safety Limit and Interlocking Switches
In industrial plants, safety is an important factor for any plant floor. Thus, Banner Engineering offers a wide range of Safety Limit and Interlock Switches to keep accidents from occurring.
Safety interlock switches can be used to control personnel access, shut off power, and prevent machines from starting when the position of a gate or mechanical shutter changes. These switches are perfect for protecting personnel and equipment that lie within hazardous areas, especially where high-inertia rotating machines are involved.
Magnetic Safety Interlock Switches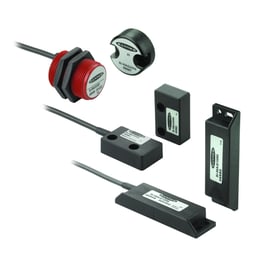 These belong to the SI-MAG series of interlock switches and have a highly compact design made up of components that resist water, dirt, and other anomalies. All models are available in flat or 30mm barrel-style mounting, having one NO and one NC contact. Due to the plethora of models available, the interlock switches' actuating mechanism can be chosen according to the application, ranging from plunger to spindle to roller. The housing is rated at IP65, and thus can withstand harsh industrial conditions.
Metal Compact Safety Interlock Switches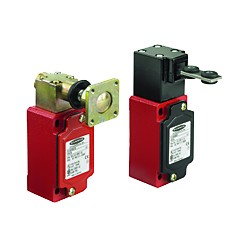 The metal compact interlock switches each consist of mechanically coded actuators, making use of two independent operating elements to reduce the risk of tampering or defeat. The four positions can be toggled through the rotating head, while the overall rigid build ensures longevity in operations. The design allows for use in tight and rugged environments.
Hinge Safety Interlock Switches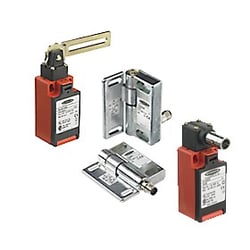 The hinge interlock switch has an operating range between 0–180 degrees, and the safety switching point can be set up anywhere within the range depending on the hinge type. The control rests within a single piece switch, so risk of malfunction and need for alignment is eliminated. The switch is available in load bearing hinge, rotating hinge, and hinged level.
Guard Locking Safety Switches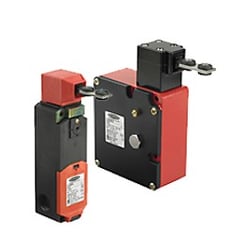 Guard Locking Safety Switches are available in two major versions: Power-to-Lock and Power-to-Unlock. The switch can lock and unlock a mechanical guard during the duration of a hazardous motion. A solenoid is used to lock or unlock the actuator and release it when power is removed. The range of voltages for the solenoid is comprehensive, covering almost all types of heavy-duty applications.
SI Series Safety Limit Switches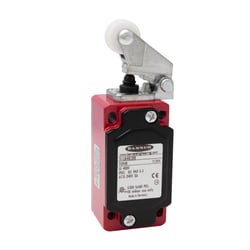 The SI Series switches are Type 1 Interlocking devices for monitoring the physical barrier positions isolating a hazardous area. The actuators are mechanically coded and use two independent operating elements to neutralize any tampering attempts. Eight different actuator positions can be used by rotating the head, while IP65 housing ensures continuation of operations in extreme conditions. The overall design ensures that all positive opening requirements for safety interlocks are met.
The mechanism for actuation can be selected as per the requirement, and the switches are available in rotary level, plunger, roller, and spindle-mount.
Interested in learning more about Banner Engineering Solutions?
You may also be interested in reading: