Banner Engineering Emergency Stop Controllers
While the industrial world is making regular breakthroughs in the field of intelligence and automation, it still relies heavily on the human workforce for day-to-day operations. Several repetitive tasks have already been delegated to robots, which come in a range of sizes, the larger greatly adding to the risk of injury in the workplace. It is therefore vital to have sufficient emergency controls throughout the plant floor to neutralize or minimize damage to human life.
Banner Engineering offers a number of stop devices that can greatly reduce workplace accidents and ensure workers' peace of mind.
30mm Mount Emergency Stop Buttons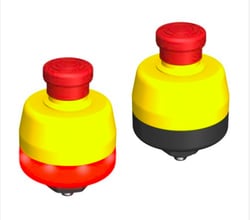 These 30mm easy-to-install push buttons can easily be mounted on top or along a machine that needs emergency control capabilities. Available in red and yellow or just red, the button's build complies with ISO 13850 regulations and hosts an IP65 design. If required, multiple buttons may be mounted in a series and regulated through Safety BUS gateway protocol.
Flush Mount Emergency Stop Buttons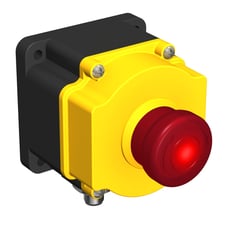 The Flush Mount stop buttons are similar to the 30mm emergency stop buttons and hold the same rugged IP65 design along with ISO 13850 compliance. In addition, they possess Safe Break Action features which ensures that the "Normally Closed" contacts will open in case the actuator and contact block are separated. Interfacing can be done in a series through additional CSS Series Hookup Cordsets.
Safety Cable Pull Switch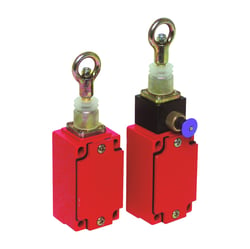 The Safety Cable Pull Switch is controlled through a rope mechanism where if steel wire rope is pulled, breaks, or becomes loose, emergency actuation is performed. The span for this switch ranges from 6–100 meters, while models are available in both trip and latch designs. The design is extremely sturdy, can withstand harsh environments and has a minimum capacity for 1 million operations.
Panel Mount Emergency Stop Button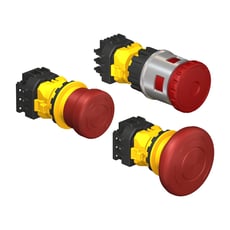 These 30mm Panel Mount Emergency Stop Buttons come in four actuation types: standard, lockable, illuminated, and illuminated lockable. The operation mechanism comes in push-to-stop, pull-to-release, or twist-to-release. The design is compliant with ISO 13850 as well as ANSI B119 emergency stop requirements. Like the flush mount buttons, these buttons feature Safe Break Action as an additional layer of safety precaution.
ED1G Series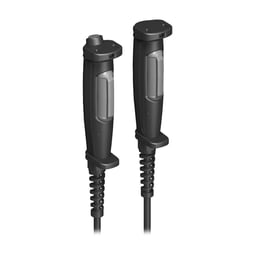 The ED1G series hosts a range of manually operated safety control devices that can be used along with separate actuating controls, allowing the machine to operate in multiple modes. The device has three-position functionality (off-on-off) and functions when the user squeezes or releases the switch. The design fits perfectly for applications involving robotic cells. The device is compliant with IEC 60947-5-1 and ANSI RIA R15.06 standards. Depending on the model, the design meets the IP65 or IP66 requirements.
Interested in learning more about Banner Engineering Solutions?
You may also be interested in reading: