Banner Engineering 14/30 Series Safety Light Curtains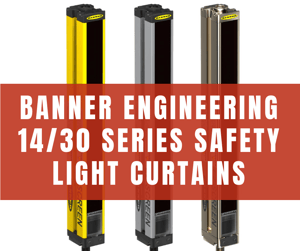 Safety Light Curtains are an essential part of any plant floor utilizing robotics
and automation equipment, protecting personnel from injury while reducing
downtime due to associated faults.
Banner Engineering offers easy-to-deploy, effective and safe solutions for
such applications, namely Type 4 and Type 2 curtains that are applicable to
high-risk and low-risk solutions respectively. The 14/30 Series Traditional
Heavy-Duty Type 4 Light Curtain is part of Banner's portfolio and offers
protection to personnel in high-risk environments.
The product is available in two resolutions, 14mm for finger, hand & ankle
protection, and 30mm for hand & ankle protection. The operation range varies from 0.1 – 6 m and 0.1 – 18 m respectively. In order to ignore the constant
inflow of materials, an optional reduced resolution is offered, a concept
previously known as floating blanking.
Diagnostic information is provided from a three-digit display, indicating the
the number of beams blocked, with the zone indicators identifying the latter.
System status and emitter/receiver alignment are provided by a clear array of
LEDs, giving the user a clear understanding of the operation. As an additional
way to monitor the OSSDs, an aux output option is also available, while up
to 4 pairs of emitters and receivers can be cascaded.
The light curtain falls under the safety regulation put forth by FEMA,
ensuring its reliability. The design is sturdy, and operation is shielded from
interruptions caused by ambient light, Radio frequencies, EMI, and weld flesh.
The product as a whole is tolerant to vibrations and has the emitter & receiver pair factory burned-in to ensure its dependability in harsh industrial
environments.
As a reference, the following industrial standards are applicable to the use of the
product:
- OSHA 29CFR1910
- ANSI B11
- ANSI/RIA R15.06
- NFPA 79
Interested in learning more, connect with an ACD expert!
You may also be interested in reading: