ACD Gets Personal: Announcing ACD Direct

Advanced Controls and Distribution (ACD) takes pride in delivering technology-leading electrical supplies – and now, ACD Direct makes thousands of products accessible to our customers 24/7. The new ACD Direct brings convenience and exclusive benefits to new and existing customers in our sales territory.
With an ACD Direct account, you'll have product details and your company's negotiated pricing at your fingertips. Other ACD Direct benefits include:
Place orders 24/7/360

Inventory Availability

Save Product Lists and Carts

Email Saved Carts

Review Past Orders

And more!
Find out how your Direct account's exclusive features make the entire quoting and ordering process easier than ever:
See your negotiated pricing and rebates reflected live in your portal – and order the way you prefer.
With an ACD Direct account, you will have access to your company's negotiated pricing 24/7. You can also work with your ACD account manager to get specific pricing reflected in your account.
In addition to credit cards and PayPal, you can also checkout using a Purchase Order number and charge your Collect Account for shipping: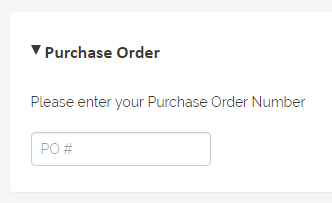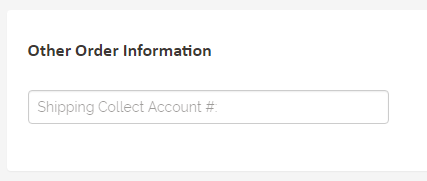 Simply enter your Purchase Order number and Shipping Collect Account number in the appropriate fields at check-out.
24/7 Ordering
Don't wait for business hours to roll back around – you can make an order in ACD Direct 24 hours a day, any day of the week. Whether you're ordering from your smartphone on the go or prefer to work past rush hour in the evening, you can check out with ACD Direct any time.
Inventory Availability
On product pages, you will now be able to see if the product you are looking at is In Stock or needs to be Drop Shipped. Products that are In Stock will also display the quantity currently available.

Look up pricing for quotes and save products to lists
With ACD Direct, you can build and save unlimited product lists and even share them via email. Create multiple lists for any project or order – you're only a few clicks away from a quote. Begin building a cart or a list by clicking "Add to Cart" or "Save to List" located on the product page.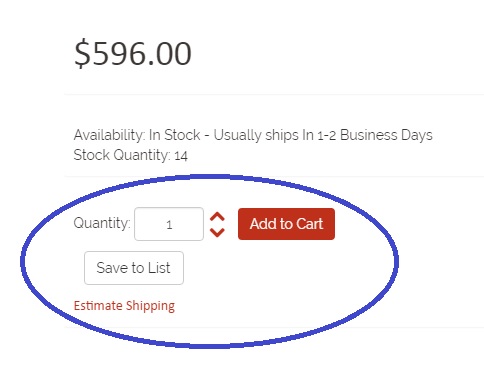 Saving to a Product List
When saving to a list, you will be brought to a Temporary Saved List Page. Items you "Save to List" will be saved temporarily for the duration of your portal visit. To permanently save your products to a list you must create a new list or select an existing list.
To create a new list, enter your Product List Name and click "Create New",

After this is created, you can add your product to the list by selecting the Product List Name from the drop down menu:

Select the products you wish to add to this list and click "Add to Existing" or "Move to Cart":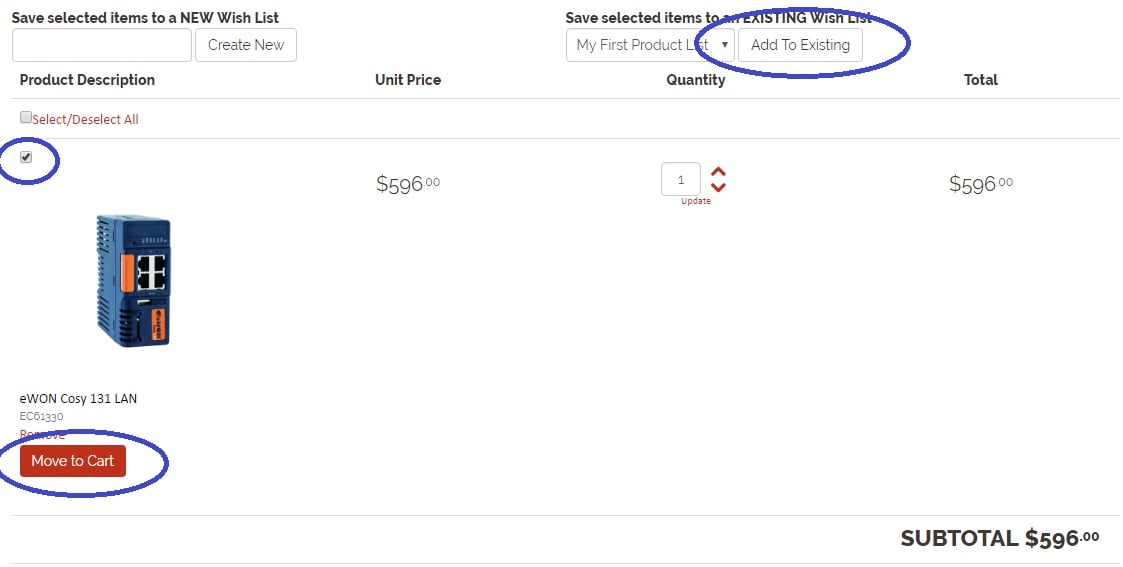 Note: While you can save multiple Lists and Carts, Carts are the only group that can be emailed or shared.
Lists can be viewed at any time by clicking on "My Saved Product Lists" located on the menu at the top of every page:

Email Your Cart
In addition to saving multiple carts, you can email carts to share product lists prior to checking out. Confirm product lists and pricing with colleagues working on the project with you, receive approval from a supervisor, send it to yourself as a mental note, or email it to your ACD account manager to negotiate pricing.
Once you're satisfied with the products in your Cart, scroll down to the bottom and click on "Save This Cart." Once your cart has been saved and named, you can share it by clicking on "Email This Cart":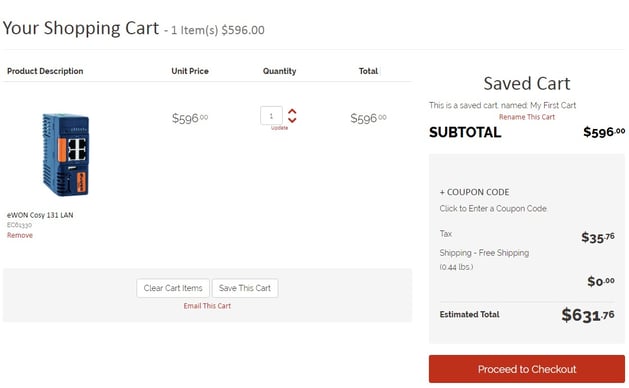 You can access your Saved Carts at any time by clicking on "My Account" located at the top of every page. The menu at the bottom of your account page will list any existing Saved Carts. Click "View" to add, edit, or share your cart:

View and access past online orders
Not sure what you ordered for that small maintenance job a year and a half ago? With your Portal, you can access and review all past online orders. Reorder with a single click or duplicate and revise past orders to expedite the process, or just refresh your memory.

You'll be able to see a full list of products per order and check details like the date, order status, and order number at a glance.
Connect Everyone's Account Under One Company
If you share a common parent in an Employee/Company customer association, enable this setting to view a shared order history, product reviews, and saved carts. Simply request this feature from your ACD account manager and we'll connect your associated company accounts.
Ask questions on product pages
If you can't find the information you need on the product page, your ACD Direct account includes a question-and-answer feature: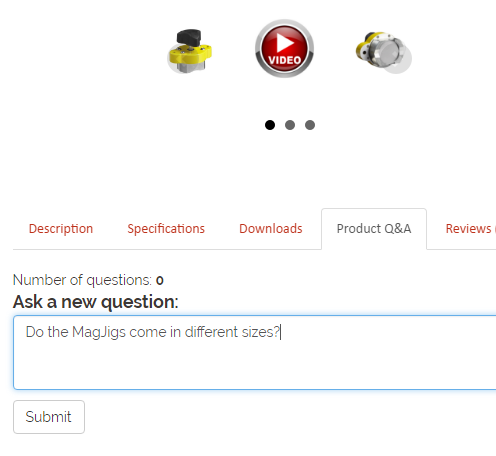 A sales expert will answer any questions you may have about the product itself, and you can always rely on us for technical and engineering support.
Create Your ACD Direct Account
You can access your ACD Direct account instantly by registering through the link below. Upon login, you'll only be able to view List Pricing so please allow up to one business day for us to load your custom pricing into your customer profile.
We'll notify you by email when your specific pricing is uploaded, but feel free to explore the product catalog, ask questions, and test out your Portal's exclusive features right away.
You may also be interested in reading: