ACD Announces Banner Engineering Product Lines
Effective October 1, 2017, ACD is pleased to announce a partnership with Banner Engineering.
ACD is now an authorized distributor for Banner Engineering products for western Pennsylvania and West Virginia. Banner Engineering is a global leader for industrial automation, lighting, sensing, vision and wireless products for both industrial end users and OEMs.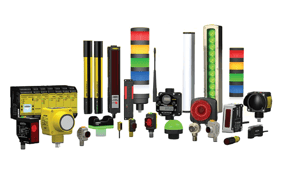 As a distributor, ACD will sell the entire Banner Engineering product portfolio which includes:
SENSORS
Photoelectric Sensors
Laser Distance Measurement
Ultrasonic Sensors
Fiber Optic Systems
Measuring Arrays
Registration Mark, Color and Luminescence Sensors
Slot Sensors and Part Sensing Arrays
Bar Code Readers
Radar Sensors
Temperature & Vibration Sensors
MACHINE SAFETY
Safety Light Curtains
Safety Controllers
Emergency Stop and Stop Controls
Safety Interlock Switches
Two-Hand Controls
Safety Laser Scanners
Safety Modules
MACHINE VISION
Vision Sensors
Smart Cameras
Vision Lighting
Barcode Readers
Vision Controllers
Vision Software and Firmware
LIGHTING AND INDICATION
Industrial LED Task Lighting
Tower Lights
LED Indicators
Touch Buttons
Pick-To-Light
Illuminated E-Stop Buttons
Vision Lighting
WIRELESS SENSOR NETWORKS
Wireless I/O & Data Radios
Wireless Controllers
Wireless Sensors, Lighting & Indicators
Wireless Accessories
As with all products ACD sells, we offer our industry leading engineering support for pre-sale and/or post-sale to ensure the success of each customer.
Interested in learning more about Banner Engineering products?